About Mannerking
My name is Debbie King and I live with all the Mannerking Japanese Spitz on 100 picturesque acres in Quialigo, Goulburn, New South Wales.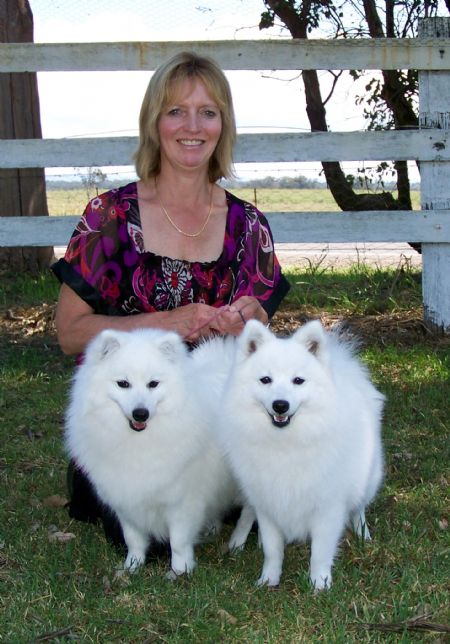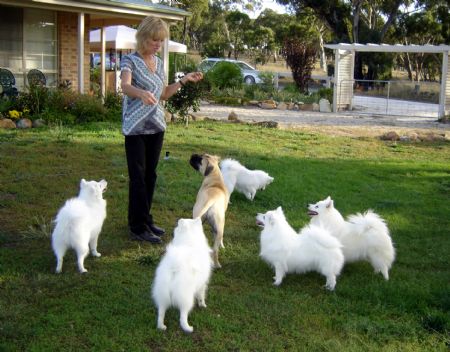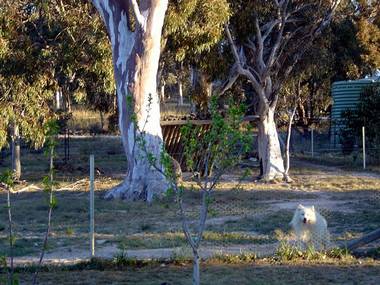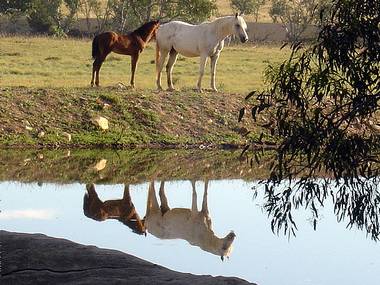 I have been exhibiting and breeding Japanese Spitz for quite a number of years now, and prior to this I was involved with Miniature Long Haired Dachshunds, Maltese and Shih Tzus.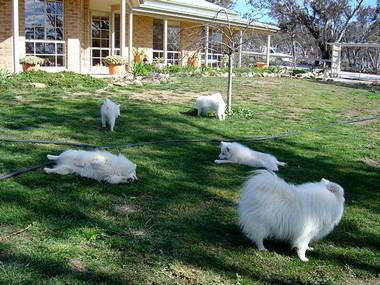 My Japanese Spitz are my passion and Mannerking has been enjoying considerable success in the show ring, not only with dogs I have been exhibiting myself, but those Mannerking dogs being shown by others. Be sure to check out my dog profiles and photo album.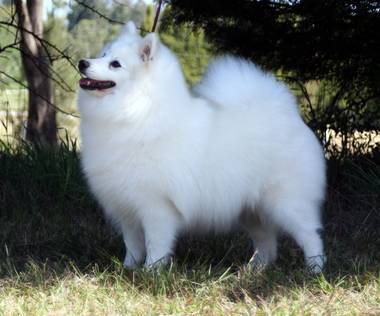 Pictured above is Australian Grand Champion Mannerking Special Editn - Faith. First female Grand Champion Japanese Spitz and first Best in Show winner for Mannerking. Owned by Amanda Huggins of Daesdaemar Japanese Spitz.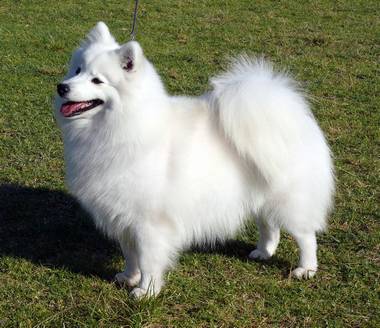 Faith is the dam of our lovely Priscilla, Champion Daesdaemar Summer Wine, above.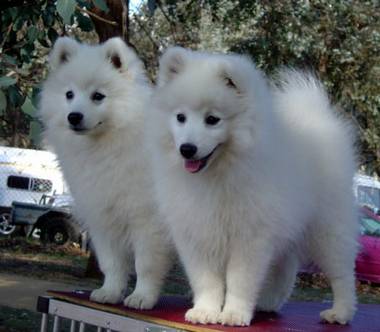 Pictured above are typical Mannerking babies -
Mannerking Last Chance - "Chance" and Mannerking Worth The Wait - "Zabe"
Now announcing the arrival of Mason, Champion Sziada Tropical Mirage at Mannerking.
He will bring some exciting new bloodlines with him, and he is pictured below.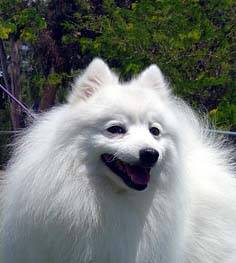 The next generations at Mannerking...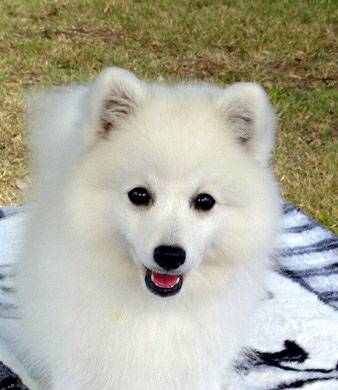 Pictured above is Mannerking Simply an Angel - "Angel"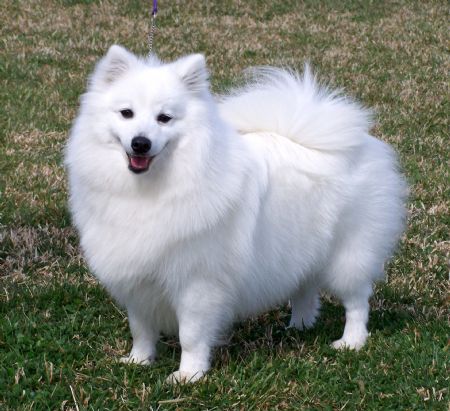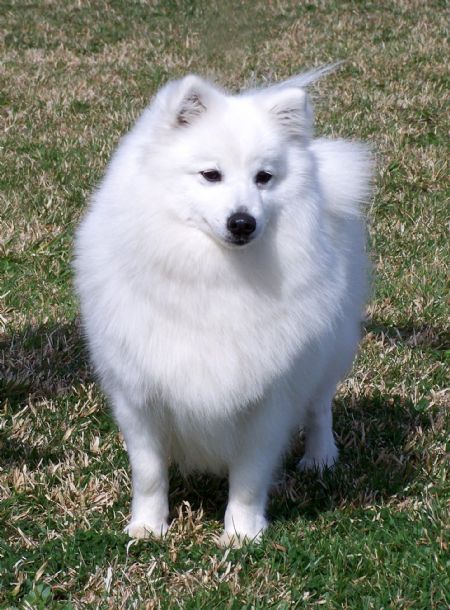 Mannerking Drama Queen - "Lindsay"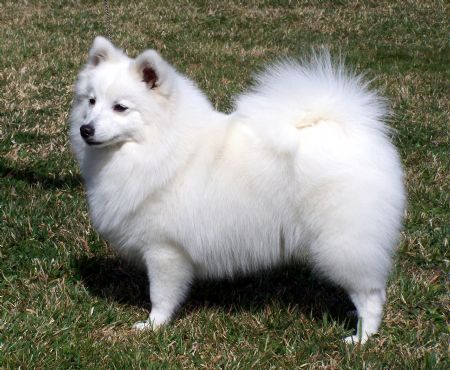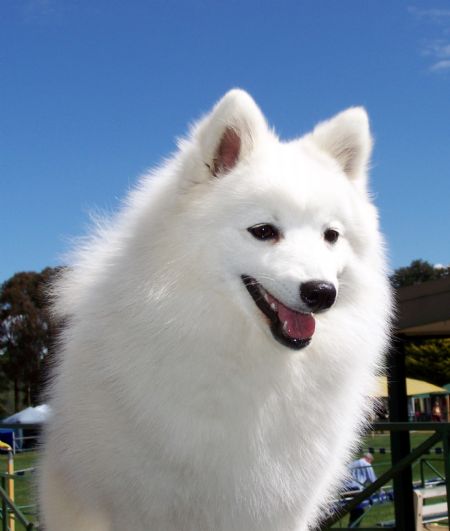 And Mannerking Crossing Jordan - "BB"
And now we have a new addition to the Mannerking family...
Morgan the Bullmastiff has quickly made herself at home.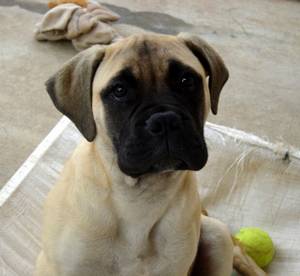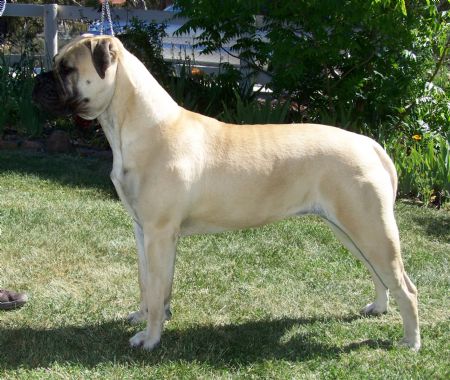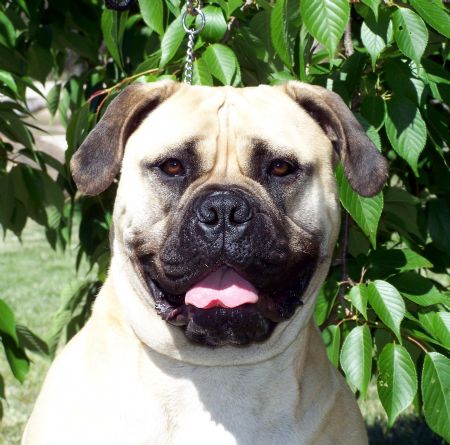 In the Beginning...
It all started for Mannerking Japanese Spitz, when my daughter Samantha "discovered" the Japanese Spitz at a show when she was actually checking out Samoyeds. So right or wrong Samantha wanted a Japanese Spitz. After a bit of a search, we found Angel, "Emmebear Ice Princess" and the rest is history - everyone was hooked!!
She is picured below here with Samantha.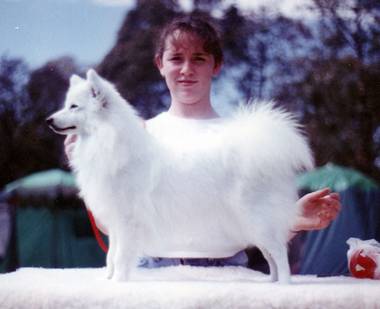 This was the earlies 1990's, so breeders were still hard to find. My search led me to a lively fluffball, Jamie - Champion Napaj Kool Kustomer, pictured below as a puppy.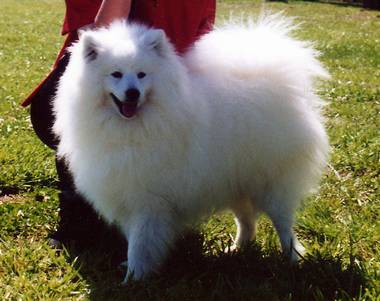 Jamie and Angel were soon joined by Sheba, Champion Heavenlee Tosheba Frost, pictured below at age 12 months of age.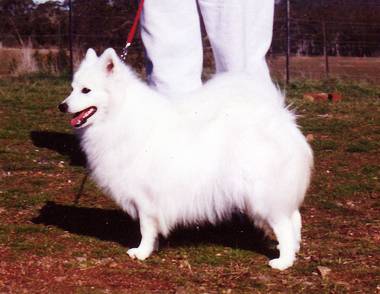 At a later stage, we also acquired Rupert, Champion Abaseiko Taja Ice Dragon, who featured some exciting new imported bloodlines.
These dogs have combined to help Mannerking produce Japanese Spitz of consistent quality.
Pictured below are two such examples - on the left Mannerking Gin Kage - "Shadow", now back at Mannerking. On the right is "Shakia", Aust and NZ Champion Mannerking Shakia Sha (exp NZ).